To make a comparison between digital and offset printing, are considered the circulation and related prices. Digital printing technology is based on laser printers, while the offset printing is the process by which the image is transferred to paper using printing plates.
Digitalis has an advantage in small circulations and the works with many variables, while offset circulations is winner on large circulations. Switching between the two is made at a circulation of 300 copies, 4 + 0, 4 + 1 or 4 + 4 colors. The digital printing can print different information on each page. The same offset printing was in two stages: offset printing and customizing the template on a monochrome laser printer, or screen printing or other methods.
The disadvantage of digital printing at larger circulations, is primarily the constant price, which is almost the same as the first sheet printed. To offset the templates need (molds or plates) and adjustment work of the machine, which means some supplies used is the initial costs subsequently divided by the number of copies printed. Hence the great disadvantage of digital offset printing to small and medium digital circulations. The pattern of a specimen, for example, means the production of templates, setting the printing machine, ink and abundance used to setting.
We do not know what the future holds, both technological advances pattern, currently both have their purpose and segment in the pattern market .
Advantages of Digital Printing: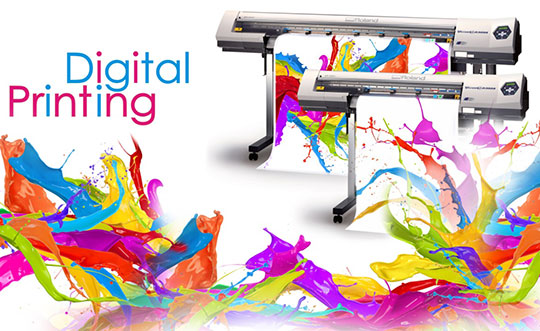 High image quality.
Digital printing can print CMYK (cyan, magenta, yellow, black) and RGB (red, green, blue) color changes can occur in the RGB pattern.
The circulations of about 300 copies, are typical for digital printing.
Digital printing eliminates many of the mechanical steps required for conventional printing – offset.
A digital device does not require printing plates, working time is much smaller, just  create a data file to print.
Offset Printing Advantages :
High image quality.
The unit cost decreases when circulation increases.
Quality and high volume cost-effective. While today's digital presses are close to cost / compensation for high quality work, they are not yet able to compete with the workload of a conventional printing.
Many modern printing machines use the supplied computer unlike older workflows that lacked it.
The ability to print on larger surfaces than A3.